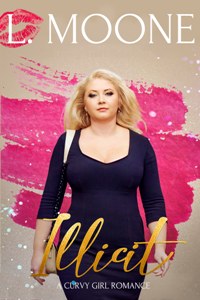 Out Now!
The Coffee Shop Girls are back with Illicit, in which Kayla shares a mind-blowing kiss with absolutely the wrong guy and things go wrong from there…
Buy Now: Amazon | B&N | Apple | Kobo | Google Play | Scribd
About Illicit
The heart wants what it wants…and it sucks.
Who makes out with her friend's dad? Kayla does, apparently. At Lauren's grand opening, no less.
Obviously, they need to ignore what happened and move on. Right?
But Simon awoke something in Kayla, which she cannot ignore. Likewise, she made him feel things he thought impossible ever since his wife's death.
Sometimes love strikes in inconvenient places. Now what?
Note: this self-contained steamy coffee break read may end up melting not just your Kindle, but your heart as well! If you enjoy steamy instalove romance stories featuring confident older men and curvy younger women, L. Moone's Coffee & Curves series will tick all your boxes.
Every book follows a different couple from the moment lightning first strikes all the way to their happily ever after. They can be read in any order, but for maximum enjoyment I suggest you start with some Fireworks (Book 1).