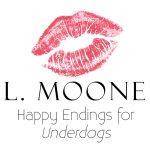 Welcome! You have reached the virtual home of L. Moone, a London-based contemporary romance, erotica and women's fiction author.
Here, you'll soon be able to find information about all my publications as well as more details about me as a person (and the occasional blog post). Please bear with me while I continue to set up my new website.
My Motto: Happy Endings for Underdogs
Realistic characters, pure emotions, true passion. Everything I write is about the characters: how they interact, what's going on in their heads, how the passionate relationship develops and affects them. I don't believe in keeping things hidden, or dressing them up just for show. Some of my characters are potty-mouths, most of them are less than perfect (yes, even physically). I aim to write a happy ending for all of them, without keeping anything behind closed doors.
Work in Progress:
New on the Blog:

So, I went to therapy…

-

*Cross posting with my newsletter* It's been a while since I wrote to you all. I haven't posted on my blog, I haven't sent out any newsletters, I've just been sort of getting swept up in all these other parts … Continue reading
Corona Lockdown in Progress (Day 2)

-

OMG, how much can change in a week! On the 13th, I sent out a newsletter (which I posted here on my blog as well) outlining the situation in India with regards to coronavirus at the time. We were all … Continue reading
Beauty (Coffee Shop Girls #3)

-

Out Now! Speed dating takes an unexpected turn for hopeless romantic, Megan in this third installment of the Coffee Shop Girls series! Buy or Borrow Now: Amazon About Beauty Megan The speed dating event at the pub has been a … Continue reading