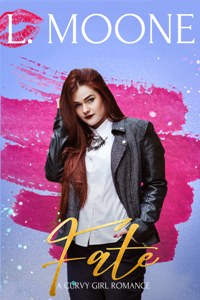 Out Now!
Alexis gets a whole lot more than she bargained for after sleeping with her boss… The Coffee & Curves series continues with this fourth installment.
Buy Now: Amazon | B&N | Apple | Kobo | Google Play | Scribd
About Fate
This one night stand keeps on giving…
Curvy girl Alexis never dreamt of sleeping with her boss. Until it happens.
No problem. They can just treat this as a one time deal and move on, right?
But life loves to throw you curveballs. Fate must always have the last word.
And Bob still looks pretty damn hot in his low-slung Levi's, no matter what Alexis tries to tell herself…
If you love steamy instalove romance stories featuring confident older men and curvy younger women, this fourth book in L. Moone's Coffee & Curves series is going to tick all your boxes. All books in the series can be read as stand-alones, but for extra enjoyment, start at the beginning with Book 1, Fireworks.