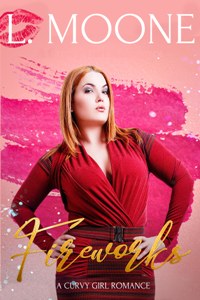 Out Now!
After Mistletoe, come the Fireworks. This book is the first in my brand new series, Coffee Shop Girls. Keep an eye out for future releases, because I promise, they're coming fast! Enjoy it for free if you're a Kindle Unlimited subscriber.
Buy Now: Amazon | B&N | Apple | Kobo | Google Play | Scribd
About Fireworks
A coffee mix-up with unforeseen repercussions…
From the moment Lauren almost steals his coffee, she recognizes that Lawrence differs from all the other guys.
Mature, sexy and confident, the man flirts like a champ.
Lauren ought to stay away before she loses herself. But when Lawrence asks her out she accepts instead.
This can only go well…
Note: this self-contained steamy holiday read may end up melting not just your Kindle, but your heart as well! If you enjoy steamy instalove romance stories featuring confident older men and a curvy younger women, L. Moone's Coffee & Curves series will tick all your boxes.
Every book follows a different couple from the moment lightning first strikes all the way to their happily ever after. They can be read in any order, but for maximum enjoyment I suggest you start here, with some Fireworks.