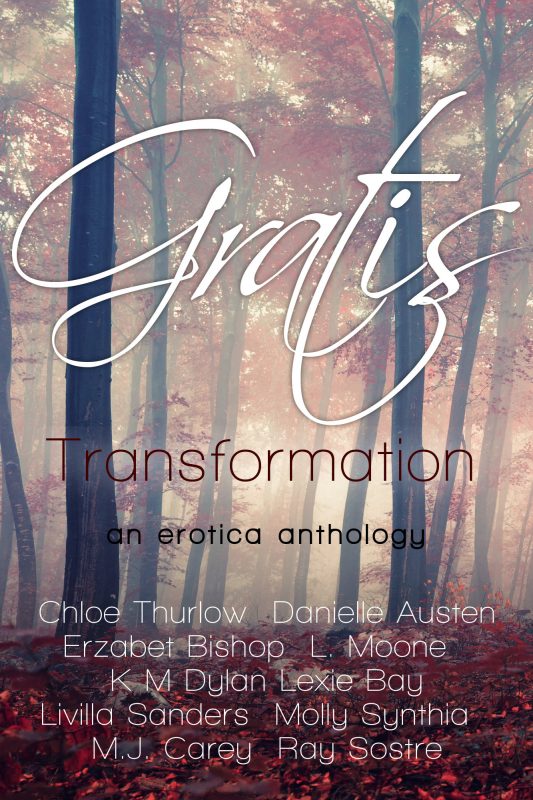 About the Book
THIS BOOK IS NOW OUT OF PRINT.
Gratis : Transformation, the third of the well received free-of-charge erotic short story collections in the Gratis Anthologies series, is set to be the autumn release of 2014!
As the title suggests, we're looking at all things change; whether it's the changing season, a new dynamic within a relationship, or even unexpected events transforming the mood at Halloween. As readers of other Gratis collections will have come to expect, this erotic anthology also contains a wide variety of erotica in various sub genres, including BDSM, Romantic Erotica, F/F, paranormal, etc. This collection should appeal to any erotica lover who appreciates classy, well-written short stories by new as well as familiar names.
For more free erotic stories, check out its two predecessors, Gratis : Midwinter Tales and Gratis : New Beginnings.
​Contents: The Garden of Eden by Chloe Thurlow, The Harlot's Lie by Danielle Austen, Harvest Garden & Salted Caramel Kink by Erzabet Bishop, Just Another Halloween by L. Moone, My Wedding Scandal by KM Dylan, Masquerade by Lexie Bay, Poisonous by Livilla Sanders, Alice in France by M.J. Carey, Leda's Swan by Molly Synthia, Their First Night Together by Ray Sostre
Other Books in "Gratis Erotica Anthologies"