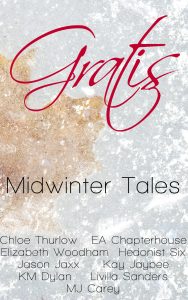 If you're following me on Facebook, you will have had an impossible time to get away from this news: there's an erotic short story collection coming out soon (on the 12th). It's called Gratis: Midwinter Tales, and it will feature  – among works by eight other extremely talented writers – a brand new story of mine.
About Gratis
In what is hopefully the first of many instalments, a selection of amazing writers have bundled together some of their short stories to create an anthology which will be made available free of charge just in time for the Holidays.
Contents
Snow Falls Softly by Chloe Thurlow, In the Mood by E.A. Chapterhouse, Wicked Games by Elizabeth Woodham, Virgin by L. Moone, White (Lights Out) by Jason Jaxx, A Pair Well Met, Blinked, and The New Year Dancers by Kay Jaybee, The Future First Lady of France by KM Dylan, Irrecusable by Livilla Sanders, Glove, and A Penheligon Christmas by M.J. Carey.
Virgin (The Rebound List #1)
The idea for this story has been months in the making, a girl in her 20s who is single for the first time in her adult life, exploring a few of the fantasies she has had to shelve while playing the squeaky-clean committed girl friend. See the blurb below:
After nearly four years with Jeff, everything fell apart. I found myself single, scared, but somehow liberated as well. Rather than stumble into another ill advised relationship, my best friend Sally helped me find focus. I would spend the next few months "finding myself" sexually. That's how The Rebound List was born.
And -this- is how my journey begins: with a virgin. Number one on my naughty bucket list…

What (or whom) would you do to celebrate your freedom after your first serious relationship breaks down?
As this is only part one of what I'm expecting to become a four part story, the follow-up is already in progress. To stay up-to-date with its release as well as any others I have planned, why not sign up to my mailing list.