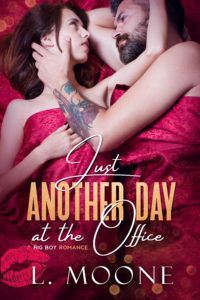 Out Now! 
Just Another Day at the Office is now live on Amazon as part of their Kindle Unlimited programme!
Take advantage of the special launch price; $0.99. Hurry, the price goes up on the 12th of October 2019!
Buy now: Amazon
About Just Another Day at the Office
Cath:
Bloody typical. Day one at the new job, and I'm crushing so hard on my colleague I can't think straight.
John isn't your average romance novel hero. He doesn't have a way with the ladies, neither does he have six pack abs. He's just a regular guy with a bit of a dad bod, and he's shy and awkward rather than suave and charming. That's cool, because I'm just a regular girl. One who's already head over heels for him and he doesn't even realise it.
There's something eating away at him, a mystery I'm determined to solve as well as resolve, if only he'll give me half a chance. And if I stop being so damn nervous every time he's around.
John:
Some people are made for love and happiness. Not me.
It was a let-down when she left, even if it wasn't entirely out of the blue. Unexpected or not, it still hurts like hell. Then there's the new girl at the office, who keeps looking at me funny. I'm supposed to be training her, but her presence is making me feel even worse. She's a constant reminder of everything I'll never have.
I'm not sure I'm ready to hope again. The disappointment would end up crushing me.
Will John get over his issues and give love a chance? Can Cath convince him that despite his flaws, he truly is the man of her dreams? Read on and find out. Who knew things could get this hot at the office?
This steamy, body-positive romance features a Big Handsome Man (BHM), a woman who appreciates him just how he is, and plenty of colourful (British English) language.
Just Another Day at the Office was L. Moone's novel debut back in 2013 when she had just started her writing journey under the pen name Hedonist Six. A heartfelt and super-hot romance about ordinary people like you and me, trying to find their own path to happiness.
Buy now: Amazon